1. User background:

Shandong Muping No. 1 Middle School was founded in 1952. There are two new and old campuses. The school covers an area of ​​240,626 square meters and the school building has a construction area of ​​124,258 square meters. At present, there are 122 classes, more than 6,800 students, and staff 550 people. With the continuous expansion of the campus and the increasing number of personnel, it has a certain impact on teaching, work and life. How to communicate smoothly between the two campuses? How to inform thousands of students about the latest situation of the school in time? The popularity of computers has changed the way of learning. How can we adapt to the development trend? Today, with the rapid development of information, how can parents and students be kept up-to-date with the new appearance of the school, so that more parents can safely choose one? Solving these problems is imminent.

2. Demand analysis:

According to the above situation, we understand that the needs of Muping Middle School can be classified into the following points:

1. Establish a communication platform between the two campuses according to the needs, so that the information can be released and received in real time without barriers.

2. The key interviews and major activities of the school and the video materials of the school's publicity department can be broadcast live.

3. The system needs to have strong concurrency performance to meet the requirements of a large number of students and a large number of concurrency.

4. Play audio and video files on the network, supporting all mainstream media formats.

5. Receive 16 channels of TV signals, play delay is small, does not occupy a lot of resources.

Third, the solution:

According to the needs, we consider from many aspects such as economy, practicality, stability, scalability, etc., and adopt the sunflower campus network TV application platform to meet user needs.

The entire application platform is composed of LiveONE mobile acquisition workstation, AVCaster video live broadcast machine, KMS streaming server, editing workstation, storage server, management server and other parts.

The following configuration scheme is based on the analysis of needs:

AVCaster video live broadcast machine: (1 set)

Operating system: Windows 2003 Server

Hardware configuration: AVCaster: P4 3.0e / 2G memory / 80G hard disk / 1000M network card / 4U chassis / without display

Provide 8-channel cable TV and 8-channel satellite TV program coding, and realize 16 channels of TV live broadcast and recording.

KMS (Kuihua Media Services) streaming media server (1 set)

Operating system: Windows 2003 Server

Hardware configuration: 2 * XEON 2.0G / 2G memory / 73G SCSI hard disk / 1000M (dual network card) /

Install streaming service server program to provide core video services such as streaming media data release and management.

WEB and database server (1 set)

Operating system: Win2003Server

Hardware configuration: 1 * XEON 2.0G / 1G memory / 73G hard disk / 1000M (single network card) /

Install WEB, SQL database, provide website services. Responsible for user access, authentication, authority, etc., as well as providing database services and system information services.

System management server (1 set)

Operating system: Windows 2003 Server

Hardware configuration: 1 * XEON 2.0G / 1G memory / 73G hard disk / 1000M (single network card).

Install remote management programs to provide web-based system management services.

4. System characteristics:

1. Simple and convenient

The entire network TV application platform is easy to install and implement, easy to operate and manage, and can be easily used without special training.

2. Safe and stable

The whole platform is divided into three main parts: coding end, server end and client end, which can be divided into different parts and can be flexibly matched. Each part operates independently and combines organically; using professional high-performance server software and professional coding equipment, so the entire platform can run for a long time, large concurrency, and stable operation across campuses.

In addition, the system strengthens the authority management function. Everyone can have their own user name and password, and there is a strict password verification mechanism. All personnel can only watch content that they have permission to watch.

3. Advanced technology

It conforms to the latest development trend of computer, network communication technology and streaming media video technology, and adopts standard protocols and specifications.

Based on live video and on-demand, highlight the quality and stability of network transmission. Integrate advanced management ideas to achieve maximum resource utilization.

4. Economical and practical

The platform has a unified business engine, integrates highly integrated specialized supporting equipment, and content publishing and management can be operated remotely, so the cost of management and maintenance is very low. At the same time, it focuses on daily work needs and can be adjusted as classroom business changes.

5. Expand on demand

Due to independent research and development and modular design, the entire system can be purchased separately, flexibly expanded, and smoothly upgraded according to actual needs. Not only meet the actual needs of the existing, but also take into account the potential needs of the future. Whether it is teaching, publicity and entertainment can be deployed separately or all, or the coding method and number of live broadcasts, or the number of users watching online at the same time, or combined with other business systems, even customized according to specific needs, can be maximized To be satisfied.

6. Fully compatible

It can satisfy both LAN and Internet; it can support the on-demand of mainstream media file format and the mainstream file format; it can not only form a system, independent applications, but also provide various interfaces to easily integrate into the existing network Among the teaching platform, OA office system and website, it has good scalability and ease of use.

WeeTaach Digital Signage covers a wide series of such as 32, 43, 49, 55, 58 and 65 inches, portrait or landscape, This series of digital signage panels are running with Android OS, and we are happy to accept OEM productions on basis of quantitative orders.

â… . Illustration: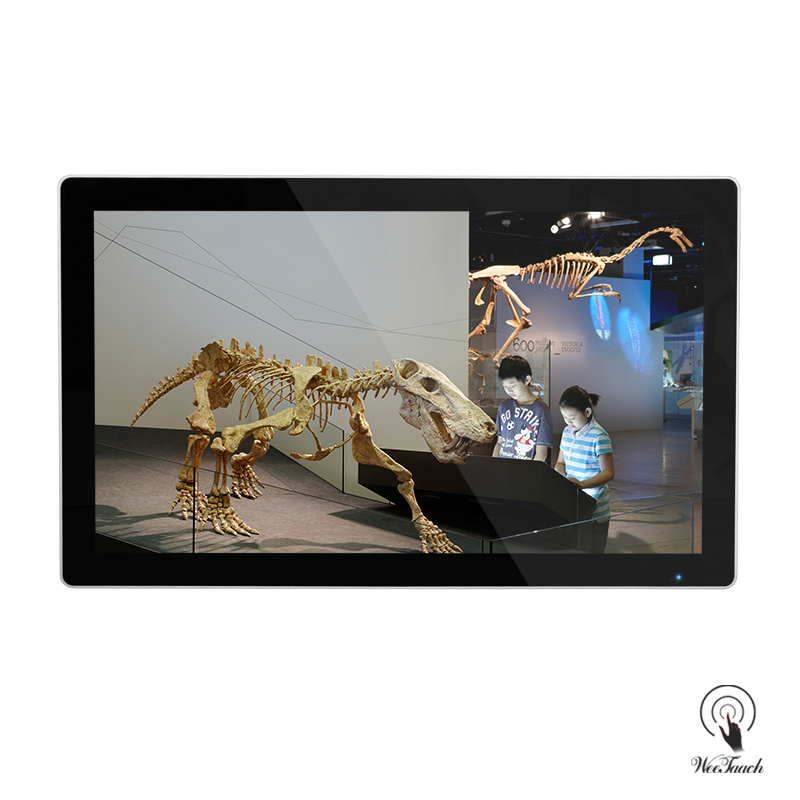 â…¡. Main Features:



Excellent cost/performance device
Fashion design, user-friendly UI
Local and Network service & maintenance
Easy Ads timing & content control
Playback of A/V programs, Office files, etc.
Unified management through server/control center
Ethernet, WIFI & mobile network services
Android OS



â…¢. Specification



Type: Wall-mount
Color: White, Black, or customized
Screen: First class LED backlighted
Screen Proof: 4mm-thick tempered glass
Screen size: 32 to 65 inches
Touch Mode: IR or Capacitive (Optional)
Main Interfaces: 2*USB2.0, SD or TF slot,1*MSATA, 1*RJ45
Speaker: Embedded 2x10W, stereo
Definition: 1080x1920
Brightness: 350cd/m²
Static Contract: 1200:1
Visual Angle: 178 degrees (V/H)
Display Scale: 9:16/16:9
Power Supply: AC100-240V, 50/60Hz
Working Condition: 0 to 50 degree C/ 10% to 90% RH
Storage Condition: -20 to 60 degree C/ 10% to 90% RH
Note: The technical specifications herein are for reference only. We remain the rights to upgrade without prior notice.



Digital Advertisement Platform,Digital Advertisement Solution,Digital Ads Board
Guangzhou Ruixin Touch Control Technology Co., Ltd. , https://www.weetaach.com