(12) Prospects of Inkjet Printing

The color performance and high image quality of inkjet printing have satisfied most consumers, but the time for printing is still too slow, and the requirements for paper are also high. Although there are many special inkjet papers on the market, However, the prices are too high, it is difficult for the general family and student population to use universally, and often a high-quality A4 image is printed, it will cost tens of dollars in vain, so that inkjet technology can be widely applied to various papers. It is really the most pressing technology that needs to be developed now. If it is not easy to make the special paper for special materials more affordable, it is a direct and effective way to develop new ink components.

Another change in inkjet technology can also achieve this goal, such as: HP continues to provide more precise control over the amount of ink supply, so that the ink droplets will not spread too serious; Tektronix also invested a lot of resources in the development of new wax printing technology (Solid Ink jet) Since the wax has a low melting point, the wax turns into a liquid after being heated. When it is sprayed onto a material to be printed, it quickly cools down to a solid state. Therefore, there is no fear of dot gain. This technique can be adapted to the most. Print materials can even be printed on toilet paper or sandpaper, and their potential for future development cannot be ignored.

However, the speed of its printing is slow. In addition, there are also shortcomings such as poor light resistance and too high machine prices. Therefore, there is still some way to go before becoming popular. Reducing the pollution of waste consumables is also a development trend. Many manufacturers now manufacture ink-jet devices that separate the ink cartridges from the print heads so that they do not waste the cost of the print heads when replacing the ink cartridges, but they often need to be replaced. Ink cartridges are not completely used up. They are only used in one color. Therefore, ink cartridges that can be refilled with ink can be developed or designed in the direction of individual ink cartridges. In addition, with the large-scale use of notebooks, digital cameras, and other hardware, the function of the printer has also been tested. In the future, in order to meet the needs of the market, an infrared input signal device is installed on the printer and can be directly connected to a digital camera. The output interface has become very necessary. It is believed that the practicality of inkjet printers will be more satisfactory soon.

The rapid progress of inkjet printing has been superior to traditional printing in terms of quality. However, the speed is slow and the output is low. However, in terms of modern printing requirements, it is no longer suitable, because most of the printed products are now demanding. Personalized colors naturally do not require mass production. Therefore, the characteristics of ink-jet printing with no plate and variable prints have become the most competitive weapon in the market. In recent years, there are many output centers and wedding dresses dedicated to personalized services in China. Photography, and even the printing and chaining shop "Mulinsen", which is a convenience store, have appeared one after another. The market pattern of traditional printing has been changed, and a personalized and regional printing new market has been formed. As far as home printers are concerned, if it is possible to overcome the high cost of consumables in the future, as well as to improve the preservation of printing speed, water resistance, light resistance, etc., it is believed that there will be feasibility for client-side printed Internet publications. Traditional printing will face another impact.

Nowadays, the color performance and high image quality of inkjet printing have satisfied most consumers.

At present, digital proofing has mostly been implemented using inkjet methods, and its advantages in large-format printing are increasingly evident, and it has begun to march into the field of packaging and printing. The world's major printer manufacturers have also been committed to the further improvement and development of inkjet printing technology, the development of better printing materials, research of new ink composition, change the ink jet technology ... ... continue to introduce new.

We have reason to believe that on this basis, ink-jet printing will increasingly adapt to today's small and varied modern printing trends with its technical advantages of no-version and variable-printing, showing an increasingly satisfactory development situation. .

(13) Introduction of domestic key inkjet printing companies

The digital inkjet printing equipment currently on the market is mainly based on imported equipment. Although several domestic companies are manufacturing such equipment, they are only at the initial stage. The following describes the major manufacturers and technical quality of digital inkjet printing equipment.

1. Digital Inkjet Proofer

AGFA's digital inkjet proofing machine resolution can be achieved 360dpi, 720dpi, 1440dpi, proofing speed at 360x360dpi resolution can reach 40 square meters / hour, the maximum print width of 1263-2230mm.

2. Digital Printing Machine

Scitex's digital inkjet printers have a resolution of 600 dpi, an inkjet printing speed of 150 square meters per hour, and a maximum inkjet print width of 1600 mm. There is also a resolution of 360 x 740dpi, a maximum printing speed of 86 square meters per hour, and a maximum width of the largest inkjet format. Other manufacturers include: EPSON, Beijing VISTA, Shanghai Cyber, Shanghai Wit, Korea DG and so on. In China, the key components of the equipment, inkjet heads, cannot be produced on their own, relying mainly on the import of British products.

3. Digital Photo Inkjet Printer

HP's digital photo inkjet printers have a resolution of 1200 x 1200 dpi or 48001200 dpi, a print speed of 3 minutes per page, and a maximum inkjet print size of 102 x 152mm.

4. Multi-purpose wide-format digital flatbed printer

Scitex's versatile, wide-format digital lithographic printing press can be used for inkjet printing of various materials, including various materials of hard media and soft media. The media thickness can reach 40mm. The device has a print resolution of 360 dpi, a printing speed of 36 m2/hr, and an inkjet area of ​​2000 x 3000 mm.

5. Film Inkjet Printer

The CP3000 produced by China's Stone Company has been sold on the market for many years.

6. Digital inkjet printer

Scitex Digital inkjet printers have a resolution of 300 x 600 dpi, a print speed of 2000 A4/min, and a maximum print width of 455.1 mm.

EPSON's digital inkjet printers have a resolution of 2880 x 1440 dpi, a print speed of 11.8 to 17.8 square meters per hour, and a maximum print width of 610 to 1118 mm. Other companies that sell such equipment include Lexmark.

7. Inkjet printer

Printed and packaged products are printed or packaged on the automatic line. The final process is to set up a coding station. Laser printers or inkjet printers are generally used. Since 1999, ink-jet printers have become popular in the Chinese market. Many such devices are used in flexo printing production lines, food packaging production lines, filling production lines, and paper packaging lines. The main manufacturer is British DOMINO company





Source: China Polymer Network

O Bag kabelka is now being very popular in Italy and Europe countries like o bag Japan Obag USA and the o bag cena is around €100.00 to €150.00. Since 2012, the most popular bag style is the classic and obag mini style. O Bag Classic body is made of EVA material, a type of plastic foam, colored, flexible, resistant and light with a particular "soft-touch" which is cold-tolerant, heat-stable, acid and water resistance.

The body presents two holes in each side which makes it easy to customize with interchangeable accessories (handles, shoulder straps, trims, Inner Bags ) Its measurement: 31cm in height, 13cm in width and 42cm in length.

The Bag Handles and inner bags can be custom as PU/canvas/leather/rope materials.




Dongguan Kangta plastic Hardware products Co., Ltd is founded in 2008, specialized in design and manufacture O bag and other EVA Foam custom products. With 10 years of professional R&D capability, we had developed around 50 styles of EVA Obag Bags including EVA Handbags, EVA shoulder bags, EVA backpacks. All those EVA fashion bags are free of molds charge, 52 colors for your choose and your logo is also welcome to laser on the bags.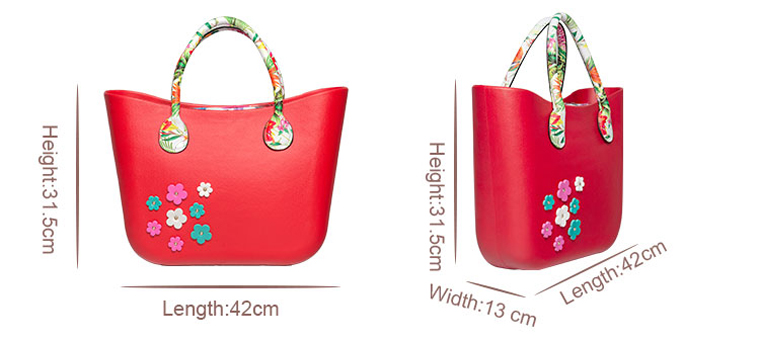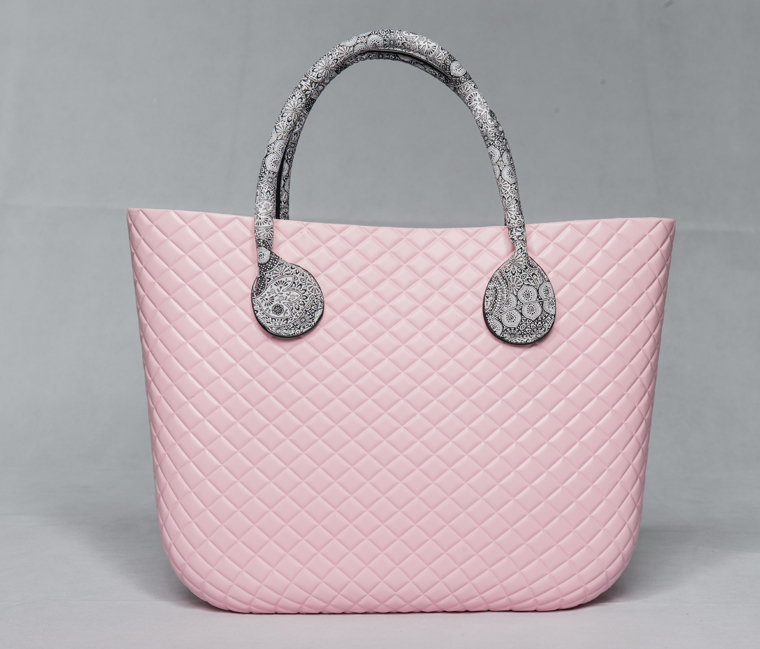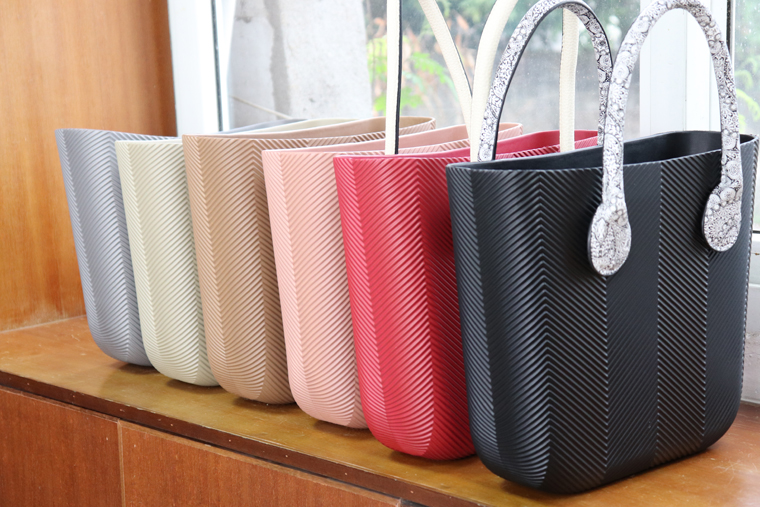 O Bag Classic
O Bag Classic, O Bag Kabelka, O Bag Cena, O Bag In USA
Dongguan KangTa Plastic Hardware Products Co., Ltd. , http://www.evayes.com