Japan's Taiyang Industrial Co., Ltd. recently developed a new type of packaging material - polyethylene lactic acid plastic film. With this kind of raw materials, packaging materials for special fruits and vegetables made from corn packaging materials, packaging bags, packaging platters, packaging boxes and other products won the honorary title of Japan's green plastic products.

Compared with traditional materials, this new type of packaging material not only has better transparency than PP, but also has better moisture permeability and oxygen permeability than where it can be degraded. Its superior transparency can improve the display effect of the products on the counter, and good breathability can make the product's preservation effect more durable. At present, the material has become a hot spot in the Japanese packaging industry. In addition to colored peppers, a combination of trays and packaging films suitable for packaging small tomatoes has also been adopted. The company is providing corresponding plans to other large companies and farmers to promote this environmentally friendly packaging. They are aiming at the strawberry market and have successfully developed a universal packaging package with edge banding for strawberry packaging. This combination of new environmentally friendly materials, coupled with anti-fog function, the application prospects will be more broad.


Source: China Food News

To maintain a good aquarium, consistent and efficient cleaning is the most important task to keep a healthy environment for the fishes. There are many different products for Aquarium Cleaning purpose that we are supplying in our range.

Aquarium Vacuum Cleaner is an easy and handy way to clean your aquarium with small gravels filled at the base. Sucking all the dirt and debris that grow overtime in the tank. Suction pump with switch allows you to change the water in your aquarium with ease.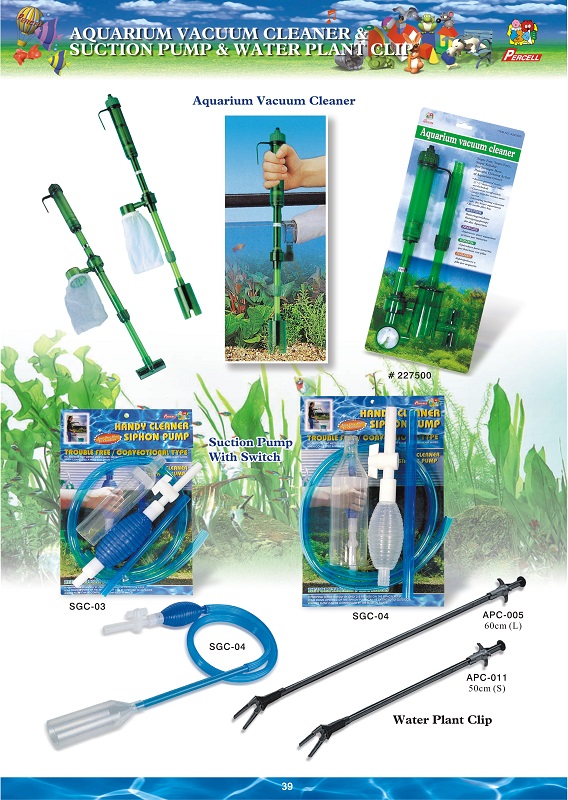 Aquarium Tube Brush is the best way to clean your Aquarium Equipment, they are thin and flexible, allow you to clean small corners, holes and gaps inside the aquarium and aquarium equipment. They come in different shapes, sizes and lengths. So you can get choose what`s the best items depending which area or equipment you are cleaning.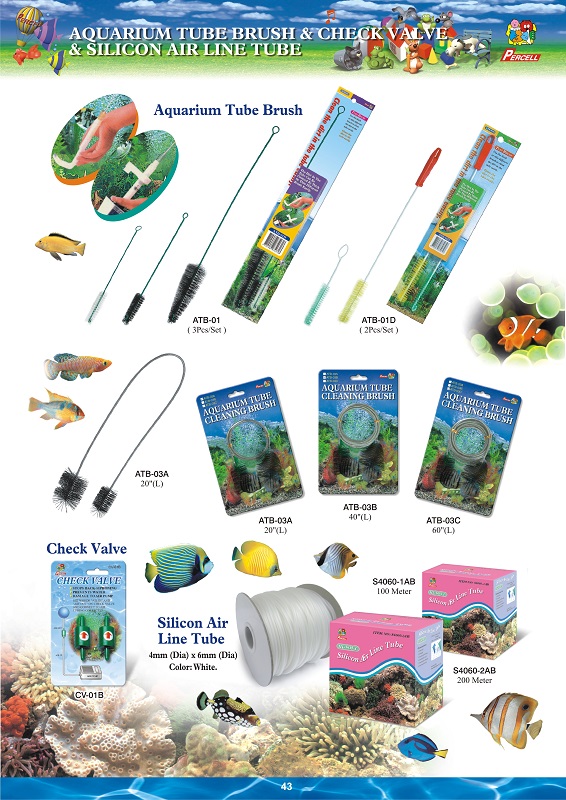 Aquarium Scraper is an efficient product to remove the dirt and algae from the surface of your Aquarium Tanks. We offer different handles of scraper and spare parts for you to choose from.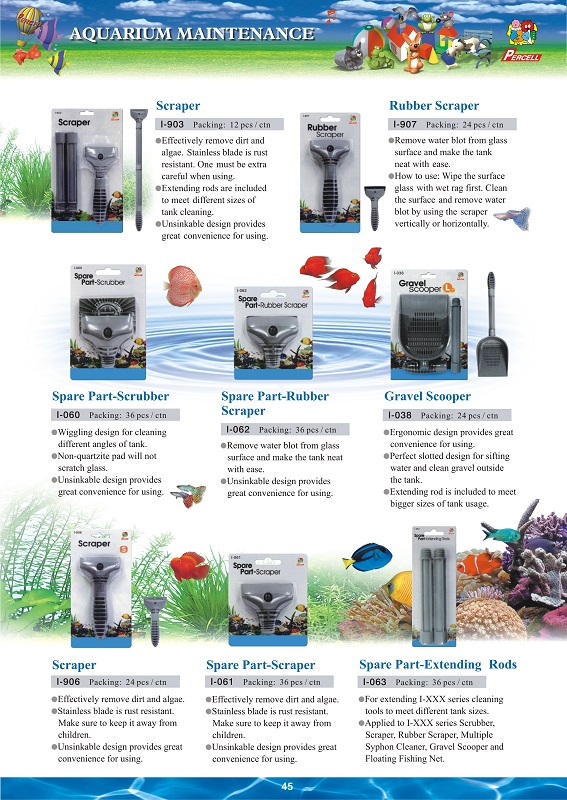 ABOUT US




PERCELL PET is established in 1978 with offices located in Taipei, Taiwan and Guangdong, China. Currently, Percell Pet partners with more than 49 distributors around the world and carries thousands of quality pet supplies for dogs, cats, birds, fresh and salt water fishes, reptiles and small animals, like rabbits and ferrets, etc from Taiwan and China.




We supply popular and classic pet products around the world and also OEM products at your needs.



FLEXIBLE IN ORDER VOLUME, orders can be done in LCL or full container, MOQ can be discussed accordingly.
COMMUNICATION, staff are fluent in written English with in time replies.
SERVICE, provide help and solutions to your sourcing in Taiwan and China.
Aquarium Cleaning
Aquarium Cleaning Brush,Dual-Head Aquarium Tube Brush, Spring Aquarium Tube Brush, Nylon Aquarium Tube Brush
PERCELL PET SYSTEM CO., LTD , http://www.percell-pet.com