[Reporter] Hello everyone, what we interviewed today is Mr. Luo Bojun, General Manager of Chengdu Qianchuan Wood Industry Co., Ltd. Hello, Mr. Luo.


[骆柏韬] Hello.


[Reporter] Welcome to participate in the Beijing Wooden Door Expo today. What are the exhibitors brought by Qianchuan Wood this year?


[Luo Bojun] Our company did not bring any new products at this exhibition. We mainly consider the factors and significance of this exhibition and its purpose, and then we will decide to do some The display of corporate culture, and then some promotion of the brand, because now our company has some understanding of the exhibition, we understand this, we are using this platform as a whole industry wooden door enterprise exchange, in fact, today Many people who come to the exhibition site, about 98% of them should be people in these industries within the industry, so we also want to take this opportunity, because we are the standing committee unit of the National Wood Door Association, as the national standard of wooden doors. One of the units, so we said that our company should also take the lead and benchmark role, so this time we have come, although thousands of miles are very hard to participate in this China Door Industry Expo.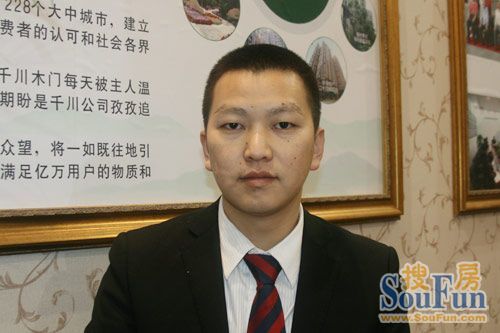 Mr. Luo Bojun, General Manager of Qianchuan Wood Industry Co., Ltd.


[Reporter] From the scene of today's exhibition, what kind of products are more interested in visitors? What changes and trends do you think consumers have in their purchases of wooden doors in recent years?


[Luo Bojun] I feel that with the continuous development of the modern market and the continuous maturity of the concept of consumption, I believe that in the next few years, we should say that these Chinese consumers, the consumers of this house, their kind Consumption will tend to be rational. There are more than 10,000 wooden door enterprises in our enterprise and department industry. There are only a lot of enterprises. There are so many enterprises, big and small. I believe that all wooden door enterprises from big to small must be Will reflect, why do you reflect? Rethinking the product we are doing now, we must also be rational. We should talk about this rationality from several aspects: the first one should be rational in price, the second one should be rational in quality, and the third should be rational in our service. I think these three points are especially important. We must protect our quality and protect our quality. Our price is definitely the wood door industry. This kind of profiteering era, or the industry that has previously had a relatively high profit margin in the eyes of others, is known as In the last brick industry of the building materials industry, I believe that this trend will not continue in the next few years. It should be like this.


[Reporter] Today, Qianchuan Wood has won the honorary title of Top 30 Wooden Doors. What do you think is the most important factor for the top 30 enterprises in this wooden door?


[Luo Bojun] Our company has won the top 30 units issued by China Wood Door Association for seven consecutive years. Our company has always set itself as a benchmark and sample in China's wooden door industry, so we are targeting the Top 30 Group. I think that enterprises, especially our building materials industry, especially in the woodware industry, this kind of abuse of consumer goods industry, I think that our quality, products should now be the core competitiveness of China's wooden door industry, it should be from this perspective speak. The second one I think that with the constant changes in consumers' consumption concept, they are now demanding more and more for the wooden door and the service proposed by our industry, so I believe that in the future competition, It must be the competition between products and the competition of services. Because of the abuse of consumer goods, as a result of the abuse of consumer goods in wooden doors, word-of-mouth publicity is a very important communication area, so our wooden door industry is a low-profile, high-turning When I don't buy it, I don't know what wooden door is good, but when I buy it, I must be especially true to consumers. So when we say that we will win some advice from friends and family, so This piece of word-of-mouth publicity is very important, I think it should be that.


[Reporter] Under the circumstances that the property market in the first-tier cities was frustrated and the home industry was in a downturn, how did Qianchuan Wood's construction in the channel be adjusted?


[Luo Baijun] Because 2011 should be a relatively low year for the entire Chinese real estate industry, with the continuous regulation of this country's macro policy, the impact on real estate companies, many companies will feel this pressure. In fact, I don't think so. I think the market is the first. Let's first talk about the real estate industry. The first real estate industry has been growing. It's just that this growth last year, including the first two months of this year, he The slowdown in this growth, but does not mean that he does not grow, this is the first point. The rigid demand of the market has been expanding. The second point I think that all the wooden door companies we used to have were in the pot. We all went to eat inside when we were hungry. This year is different. We started to have some differences last year. We are hungry now from the mouth of others. I want to eat, I believe this is also the Darwin theory of biological evolution theory, the natural selection, the survival of the fittest.

I think that for our company, the overall growth of our company in 2011 is 45%. This kind of growth is still very fast for the wooden door industry. Our company is also very confident, achieving 80% growth in 2012. The goal we set this year is 80%. Now all the resources of all our companies are like sales and our production needs. We must guarantee our goal principle. We started to work after the year and the Spring Festival, and we have made a lot of preparations. Work, so I think there is still a special point now. In the current second-hand housing market, the transaction in the second-hand housing market is very active. I have learned that many people have to change the wooden door when they buy a second-hand house for re-decoration, so I think Our channel, the concept of our dealers must be changed, the second-hand housing is actually a big market. There are some changes in some of our mid-end promotion methods and this kind of discussion in each of our real estate owners forums, propaganda, and the service concept to serve consumers, not necessarily to achieve the concept of sales, I think This is a good growth point. I think that for our Qianchuan wooden door, 2011, including 2012, should not have a colder term.


[Reporter] For the upcoming 315, is there any marketing thinking in Qianchuan Wood?


[Luo Baijun] There are some thoughts, because the 315 International Consumer Rights Protection Day, but now this enterprise, each brand now refers to this piece of quality, it has already mentioned that an ordinary person should do well without talking about the enterprise, but instead I think that the current 315 has become a business concession promotion, it is such a concept, so for this, our company's Chengdu Qianchuan trading company has also developed a series of 315 promotion policies, which have been issued to the country. The area is already doing some warm-up activities, warming up the publicity.

Silicone Ice Molds,Silicone Baking Gadgets,Silicone Candy Molds,Sunflower Mold Pan

Yangjiang Kasonn Industrial & Trading Co., Ltd. , https://www.kasonn.com